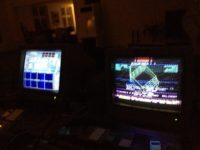 This gallery contains 5 photos.
After a too long break we finally got together again for a classic oldschool iNSANE meeting. This time we went to the holy demochurch™ in Randy-land.
Randy, Vedder, Slash, Origo and dLx were present. On this meeting we focused on the chipmusicdisk "Chiperia issue 1" which will be released under the "The Chiperia Project" label. This is not an iNSANE release but a freestanding project lead by Slash. Because of this we didn't make a new meetro as we usually do. Maybe next time.
Randy and his wife treated us … Continue reading →